Grays Court wedding photographer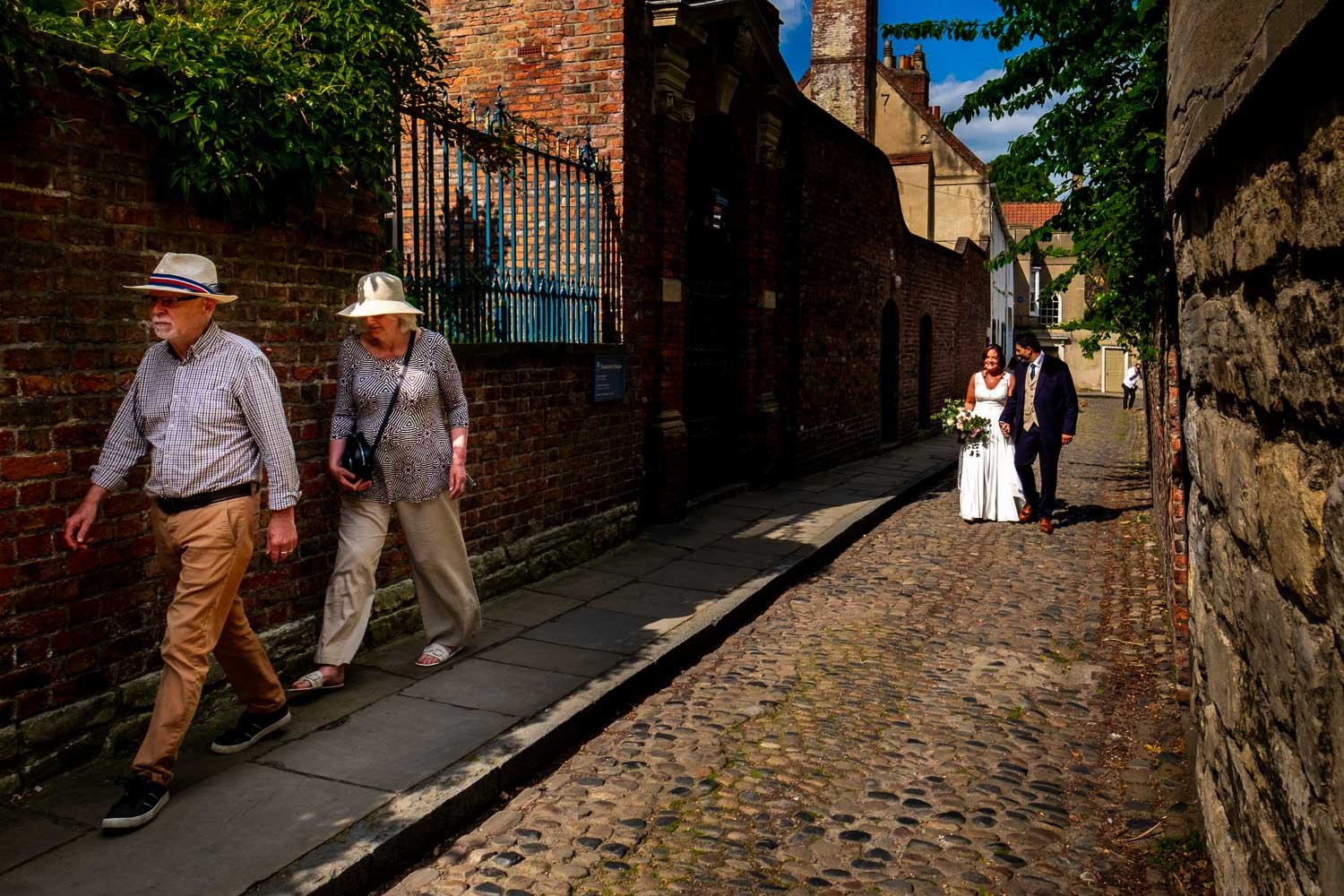 Grays Court wedding, York
Kathy & Manoj
What great fun it was to be a Grays Court wedding photographer for Kathy and Manoj.
It really was a day full of smiles, love and laughter at a beautifully intimate and historic venue in the centre of York. What a combination.
The weather gods coukdnt have been kinder – it was swelteringly hot all day – and Kathy, Manoj and their guests certainly made the most of the beautiful garden at Grays Court.
The famous city walls in York overlook Grays Court, meaning Kathy and Manoj's outdoor ceremony drew a crowd as members of the public – and a few surprise guests – stopped to watch. Everyone loves a good old wedding, don't they?
Located right next to York Minster, Grays Court also offers the chance for some amazing portraits. It's a popular tourist spot, so Kathy and Manoj rarely got the cobbled streets to themselves, but luckily I love incorporating real life into all my shots in my documentary wedding photography style. See if you can spot the photobombers in one of the portrait photos below…
Thanks a lot to Andy Wade Photography for having me along for the ride. It was a blast.
Build-up to a Grays Court wedding
After a chilled-out evening with their guests the previous day, Kathy and Manoj got down to the serious business of getting married. Kathy and her nearest and dearest enjoyed the best view in the house – overlooking the garden – during bridal prep, while Manoj and the lads were getting ready just down the corridor.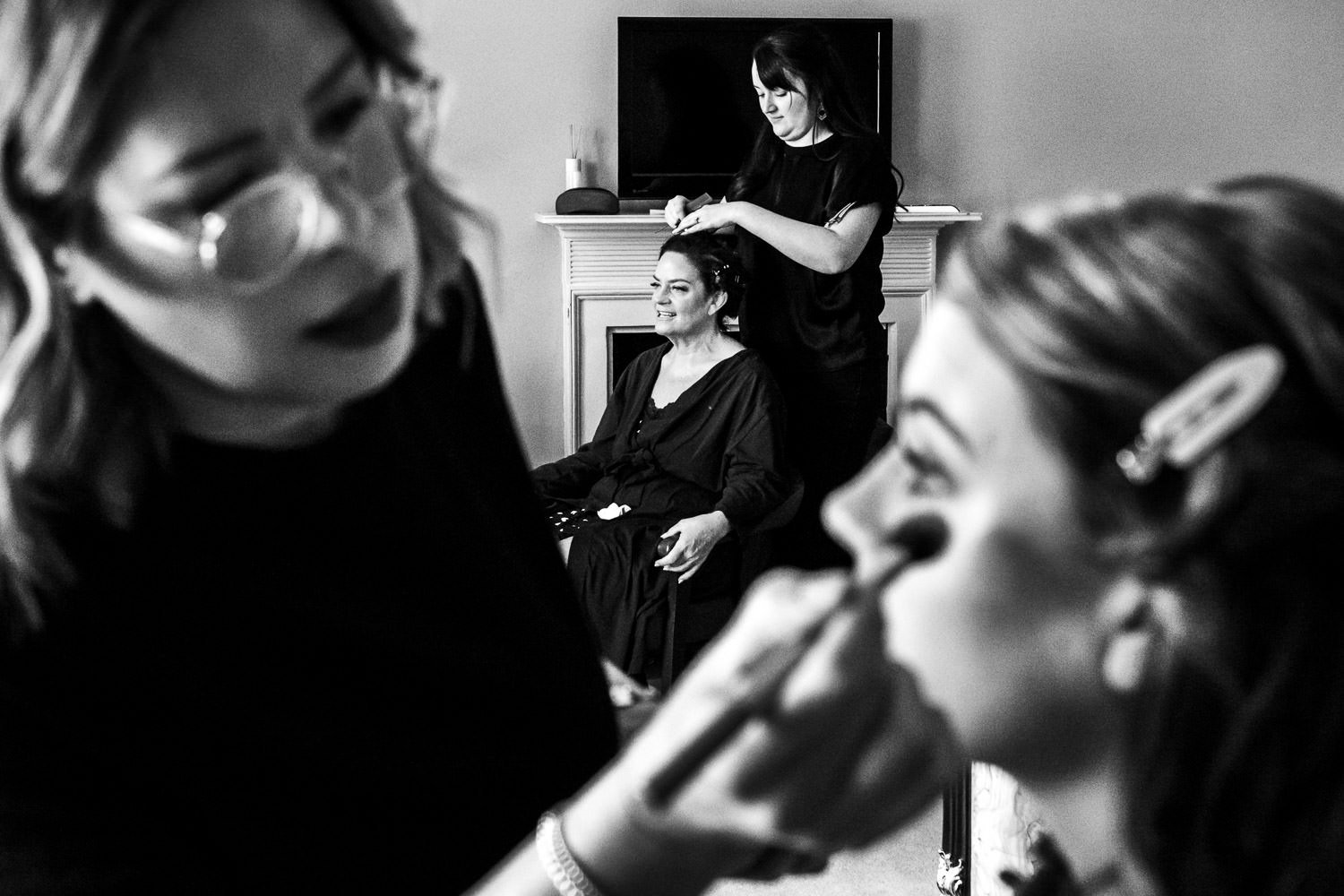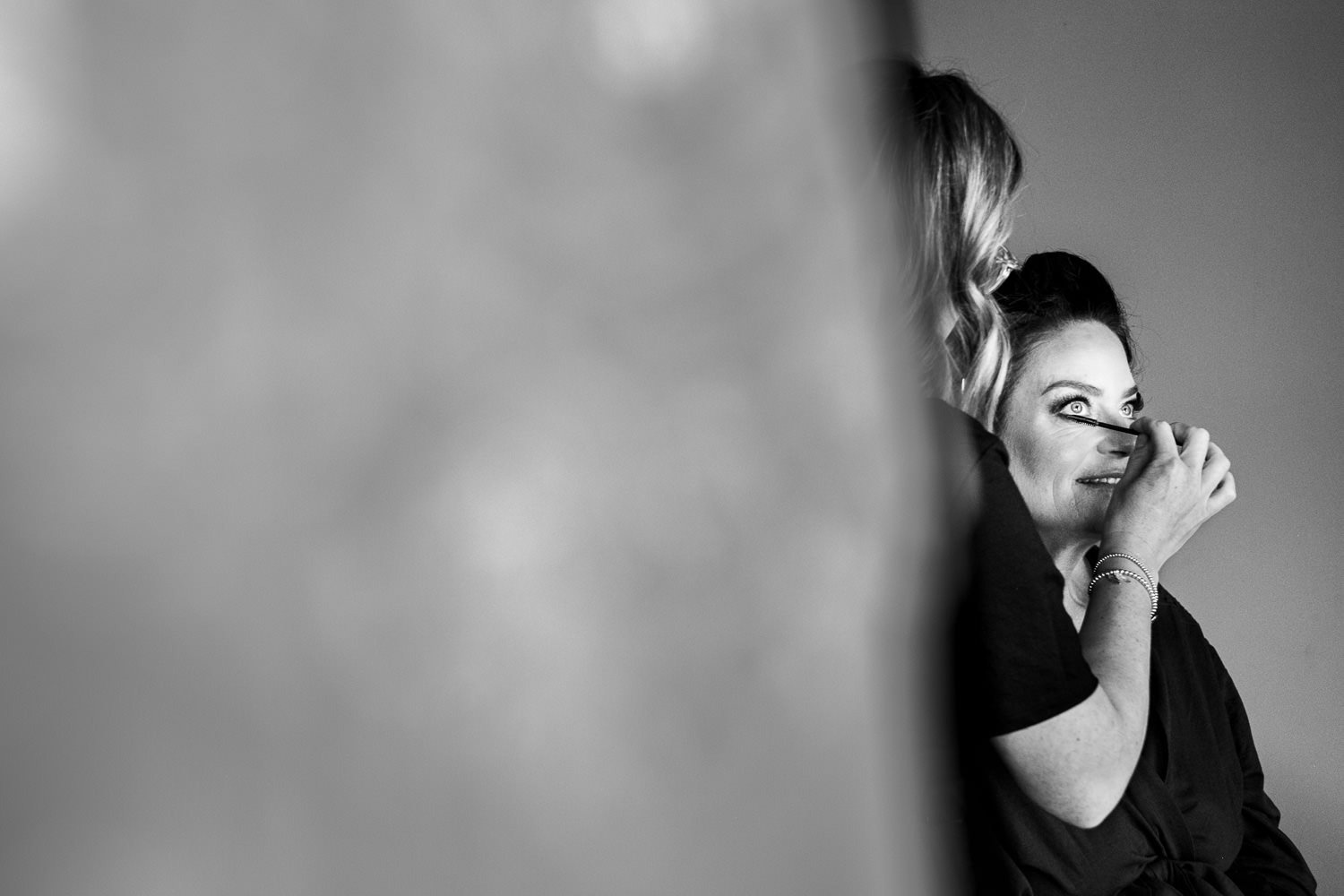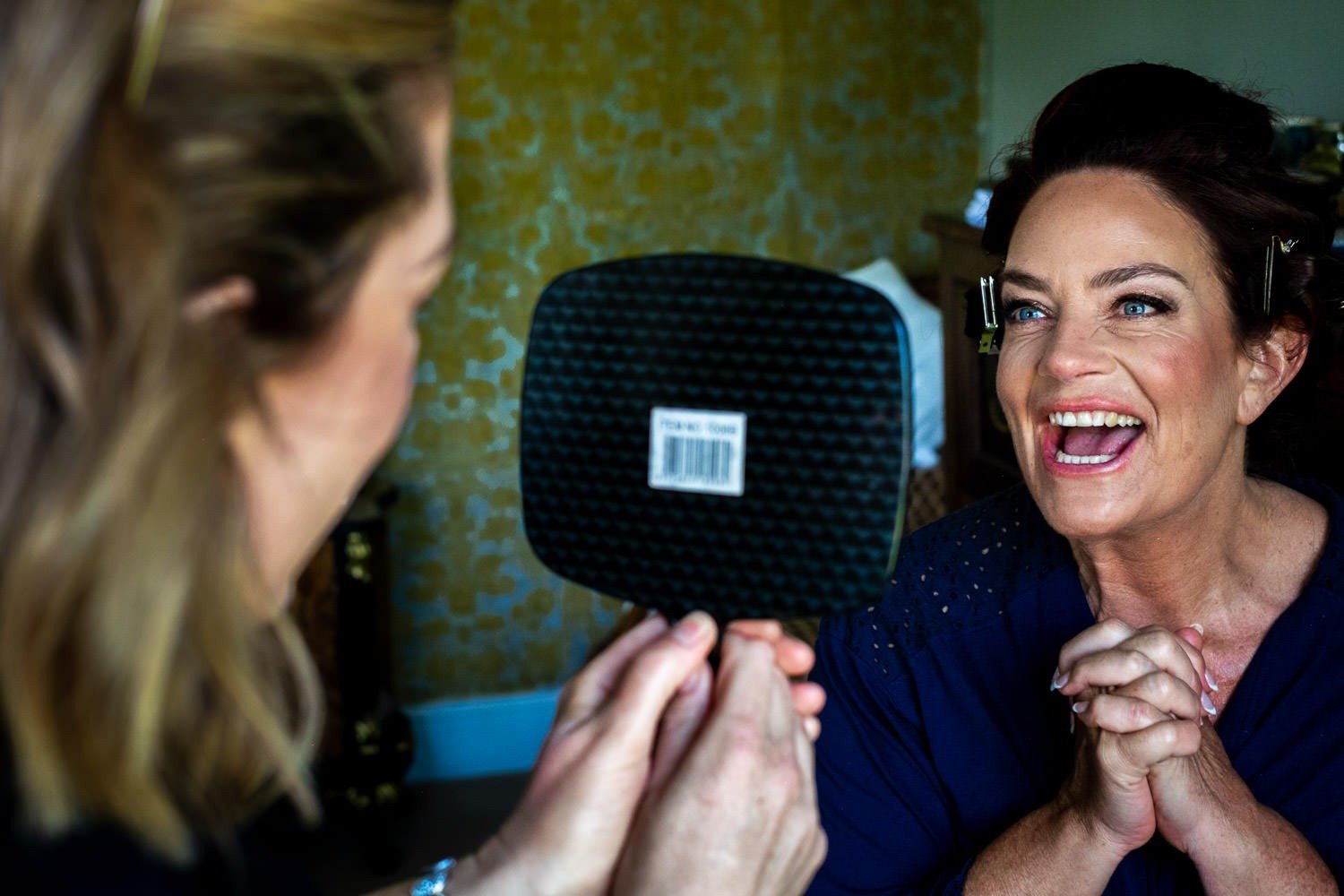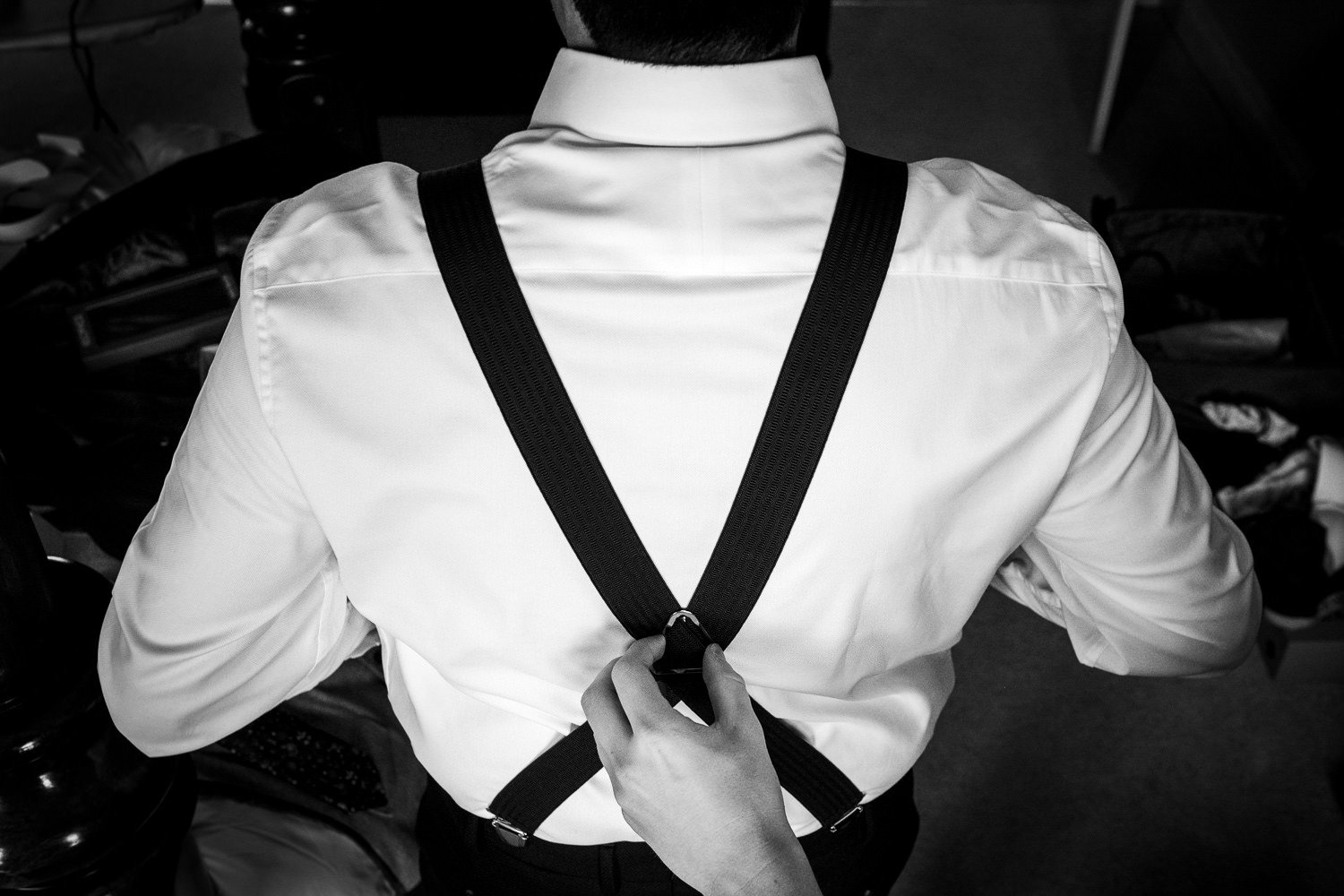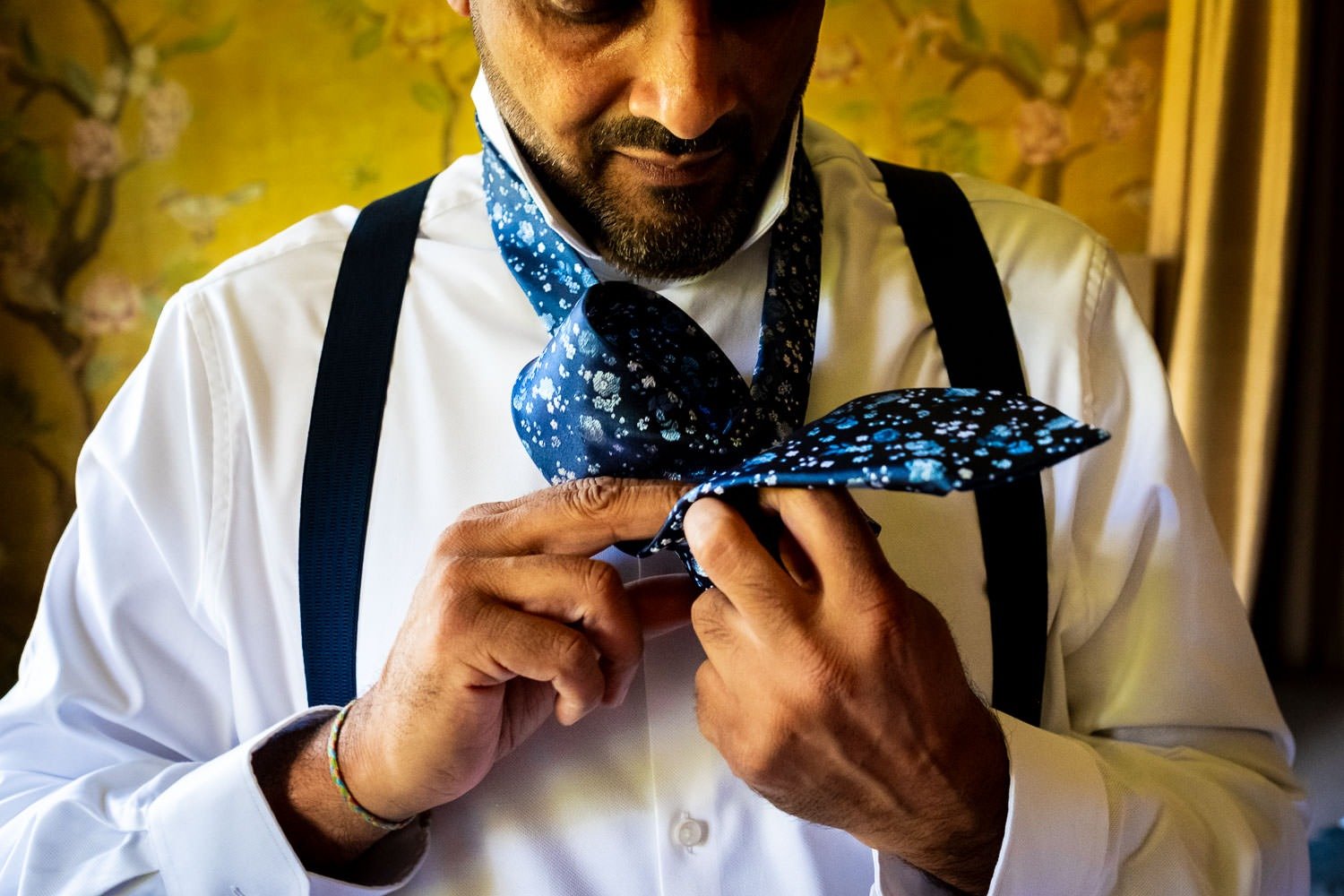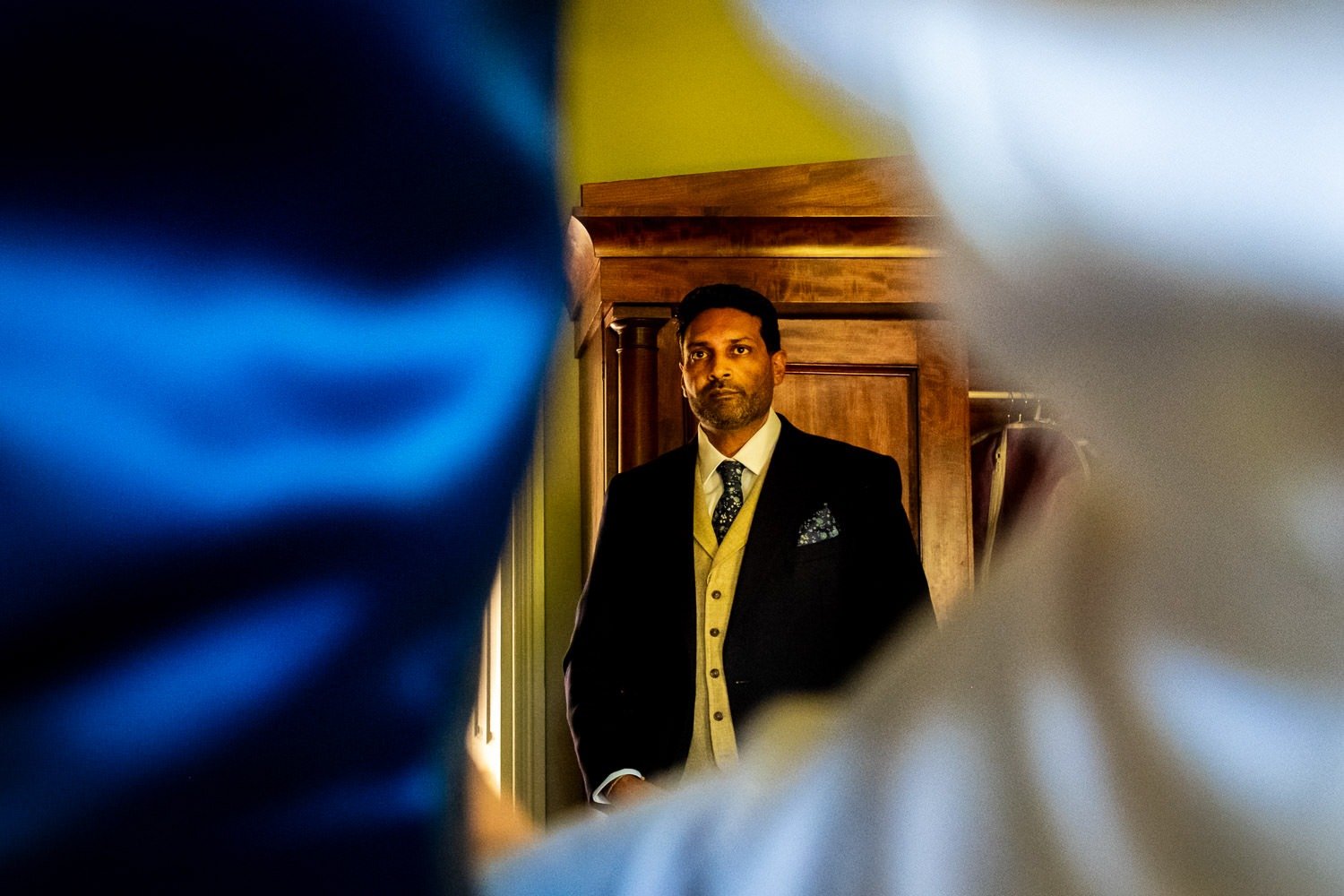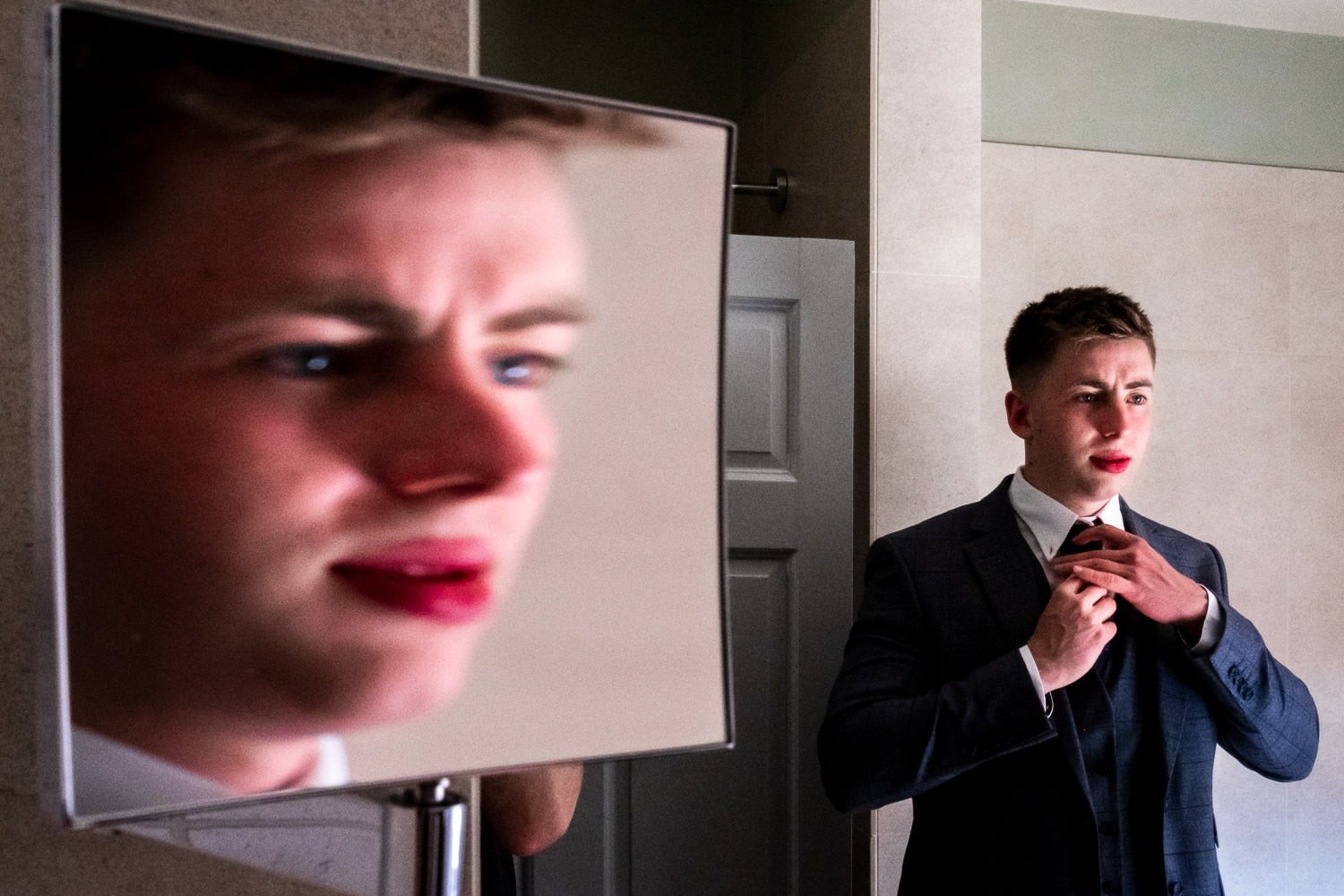 Grays Court wedding ceremony
Kathy and Manoj couldn't have picked a better day in terms of the weather – how many people in the UK have the privilege of tying the knot in glorious sunshine under clear blue skies? The outdoor ceremony was a wonderful occasion, made all the better by Kathy's workmates unfurling a banner from the city walls.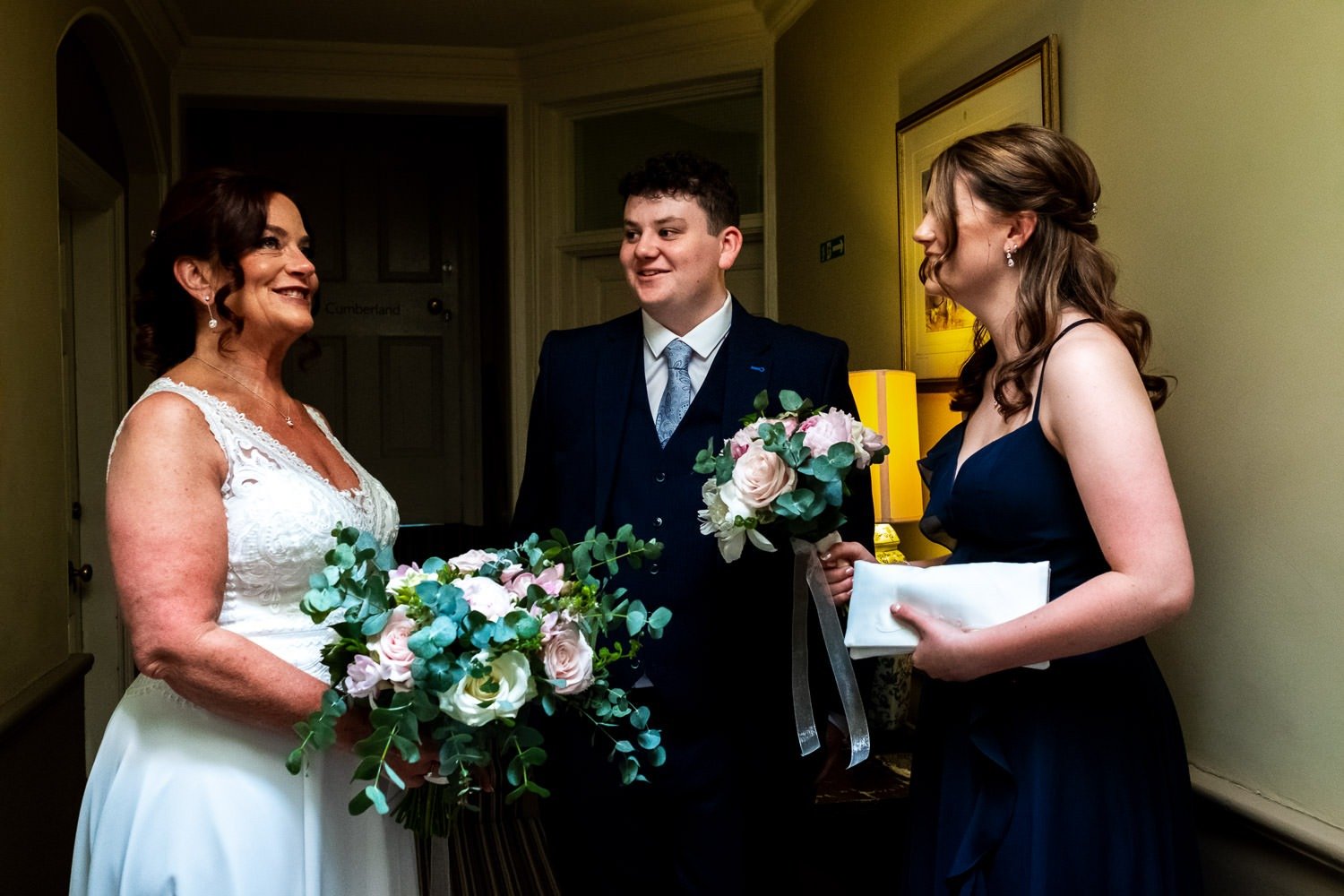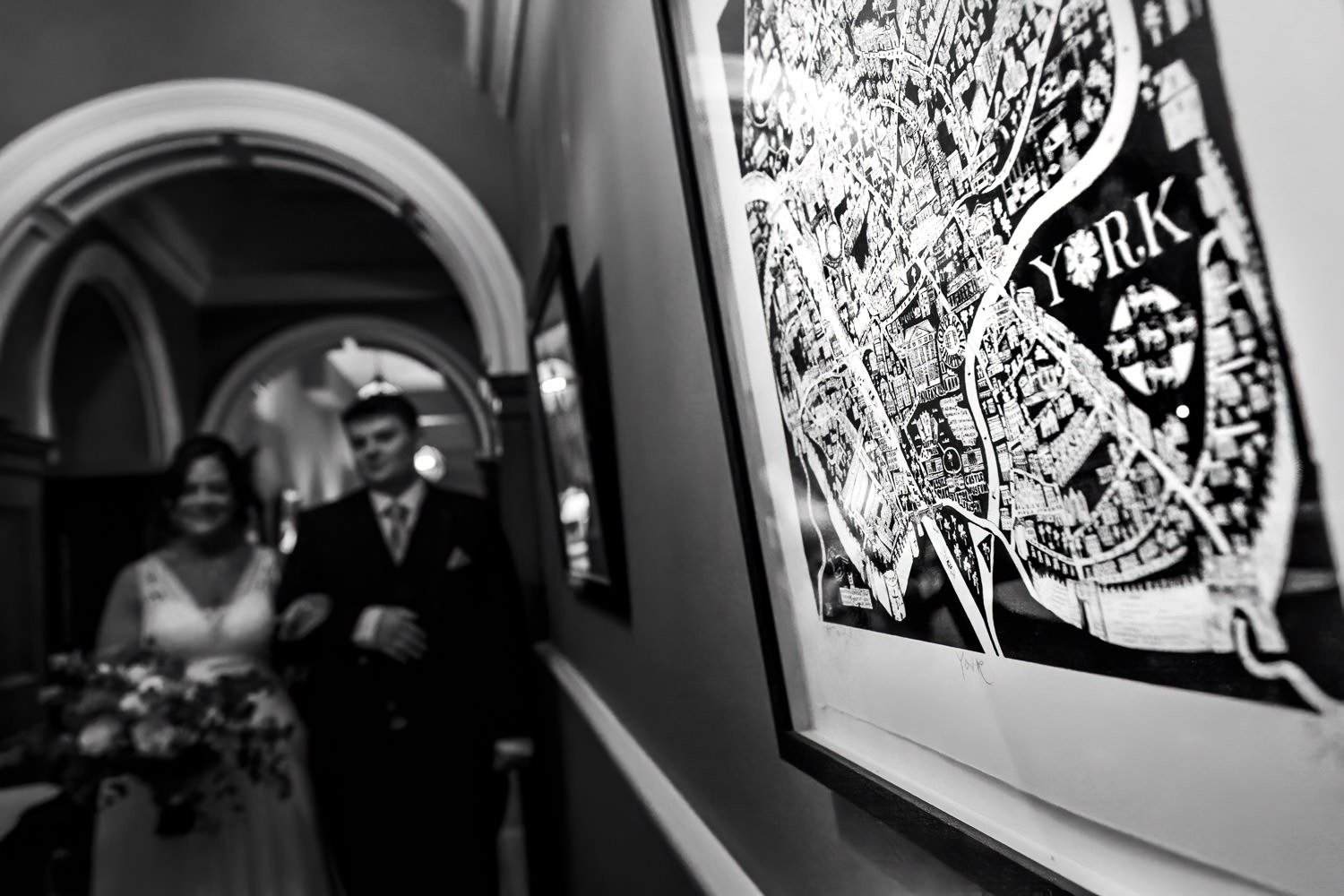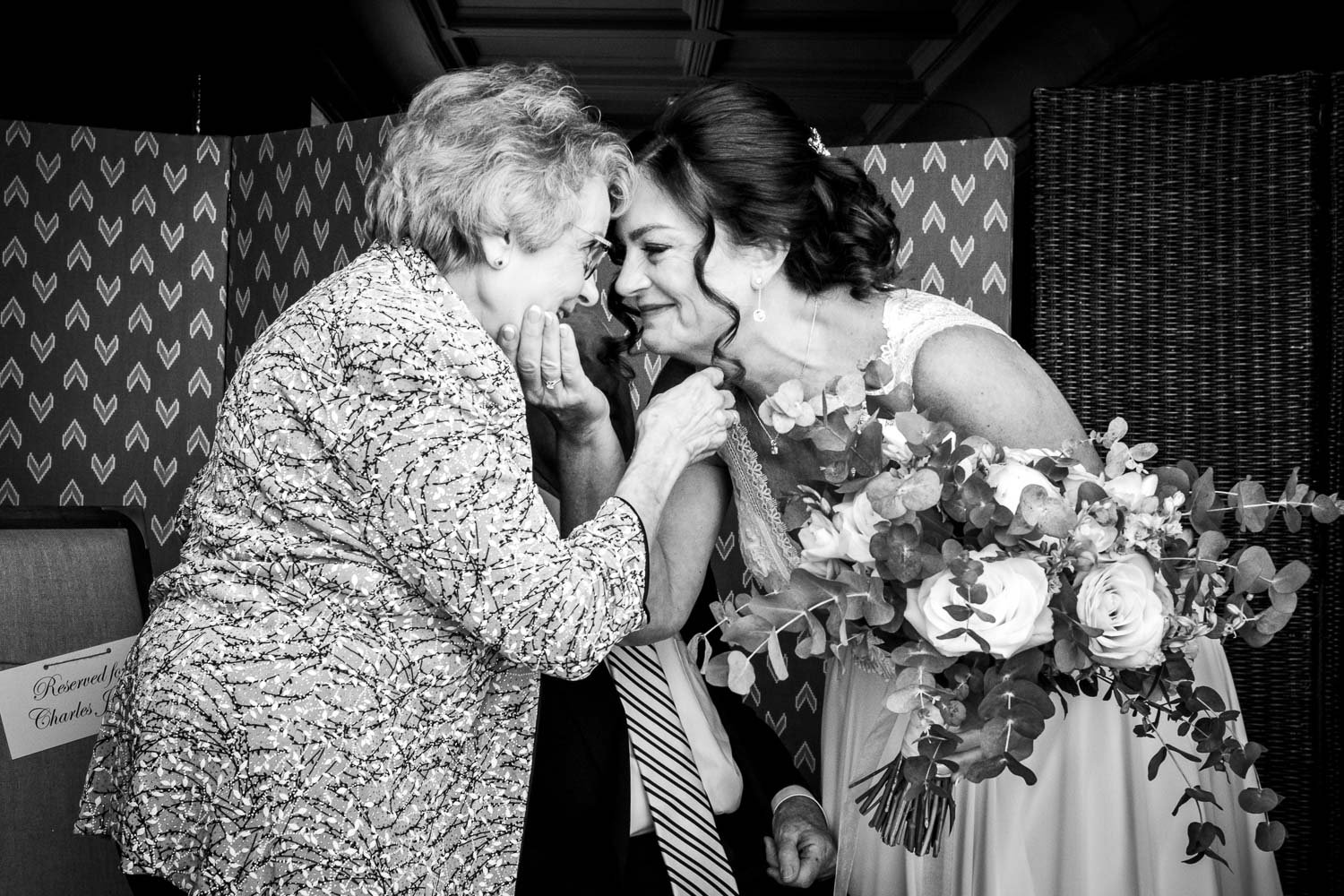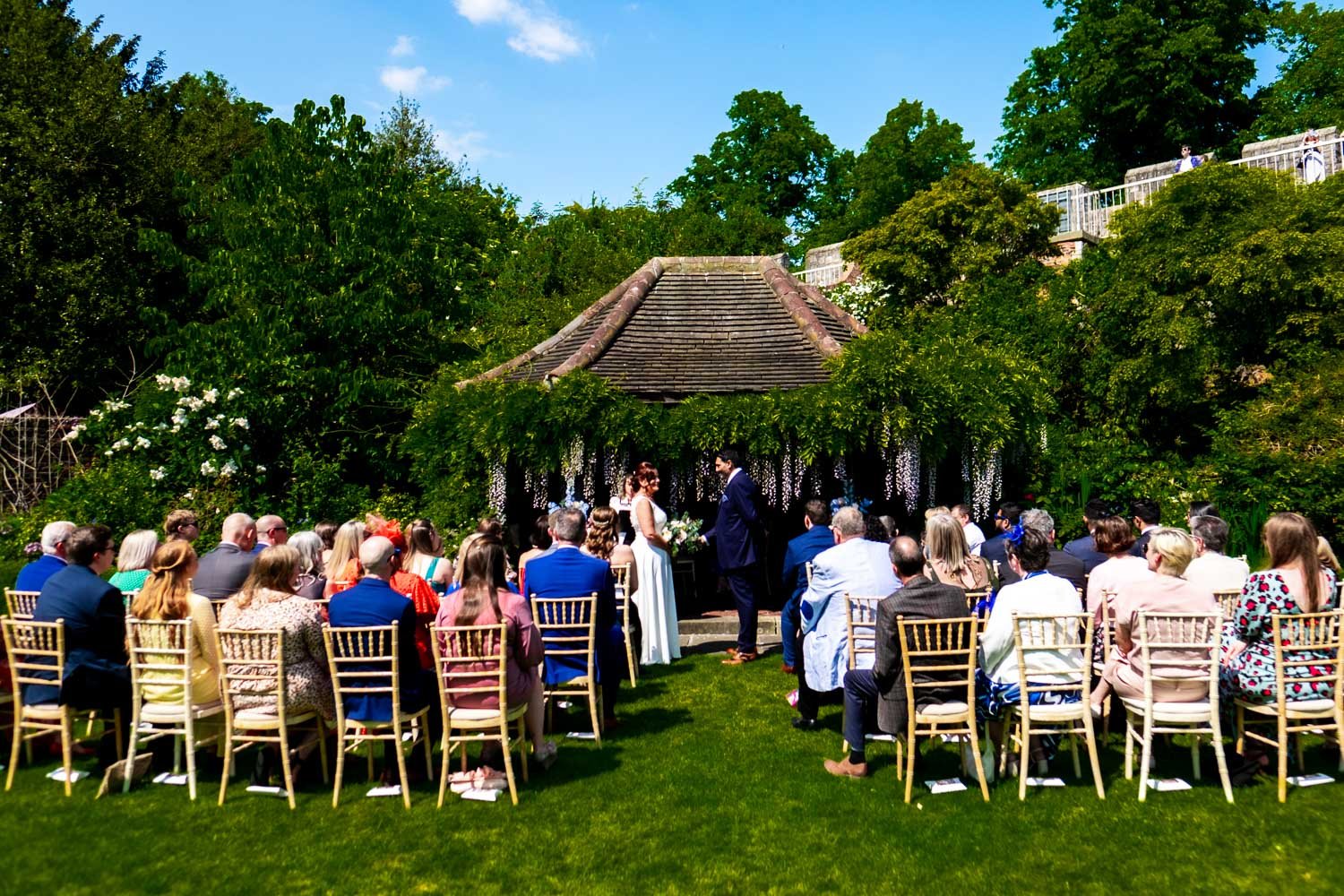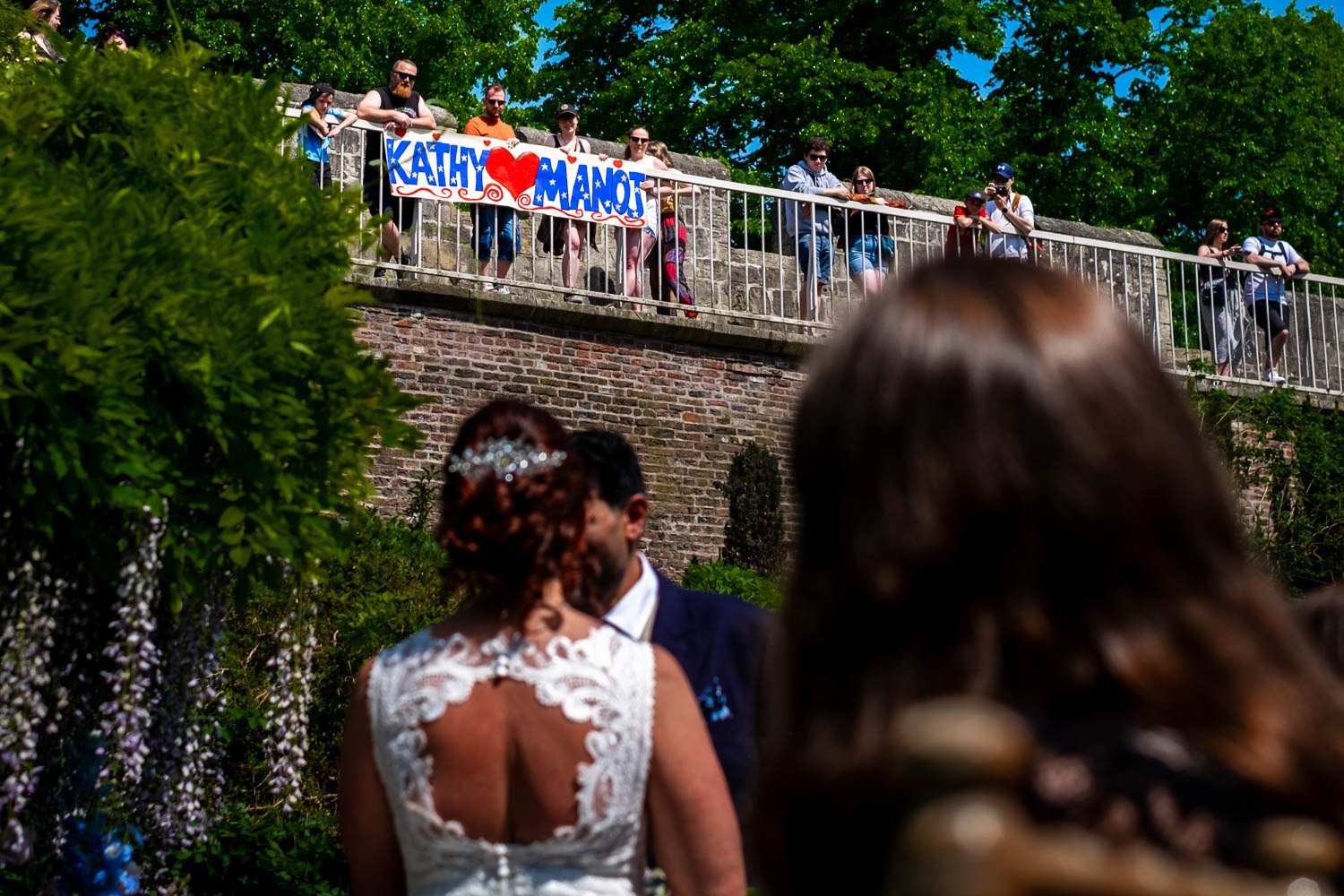 Bring on the band!
The brilliant New York Brass Band surprised the guests – it was top secret – by making a grand entrance to mark the end of the ceremony. Kathy and Manoj led the way on the (grass) dance floor as everyone soaked up the sun's rays. I was even lucky enough to get a lesson in how to solve a Rubik's cube.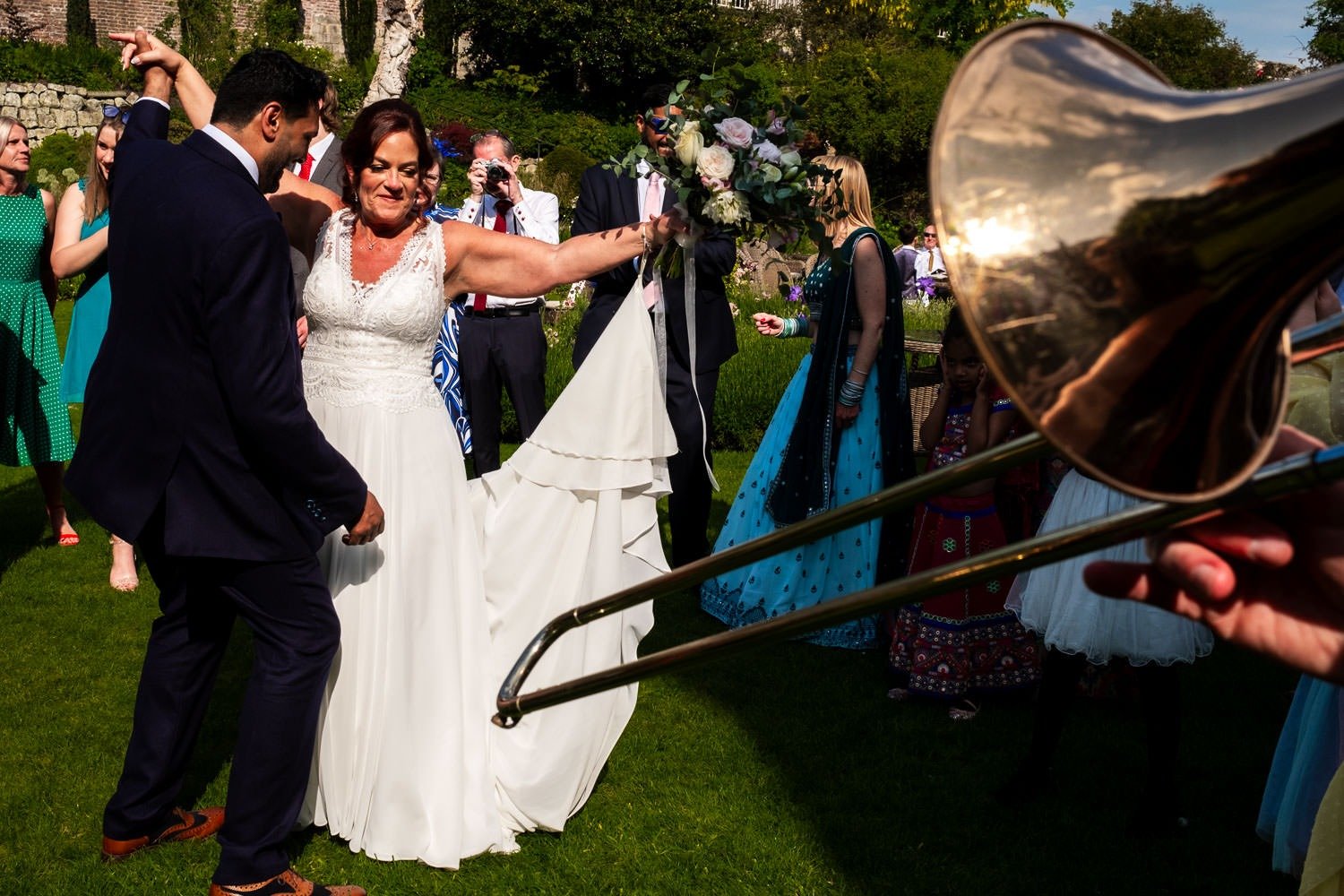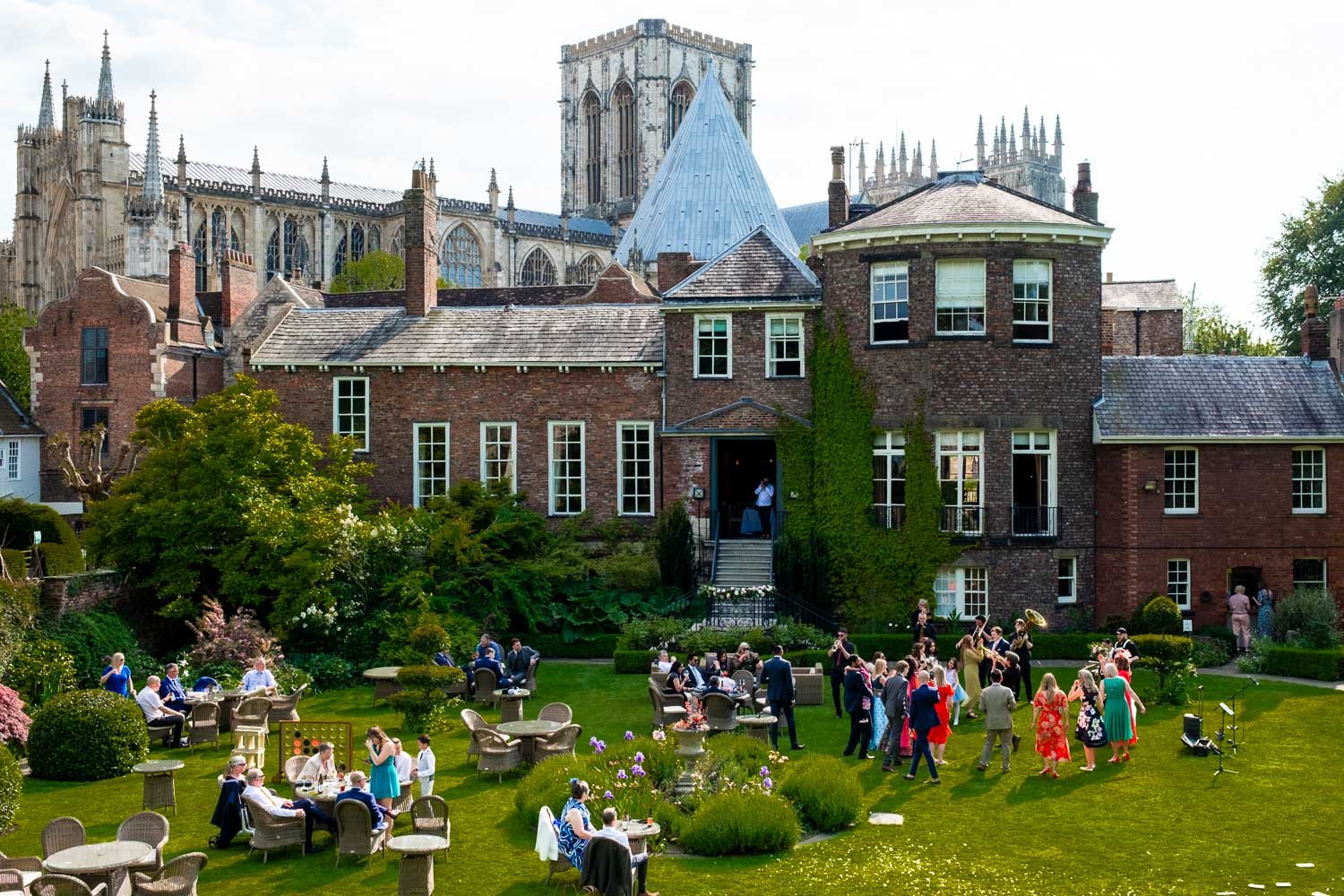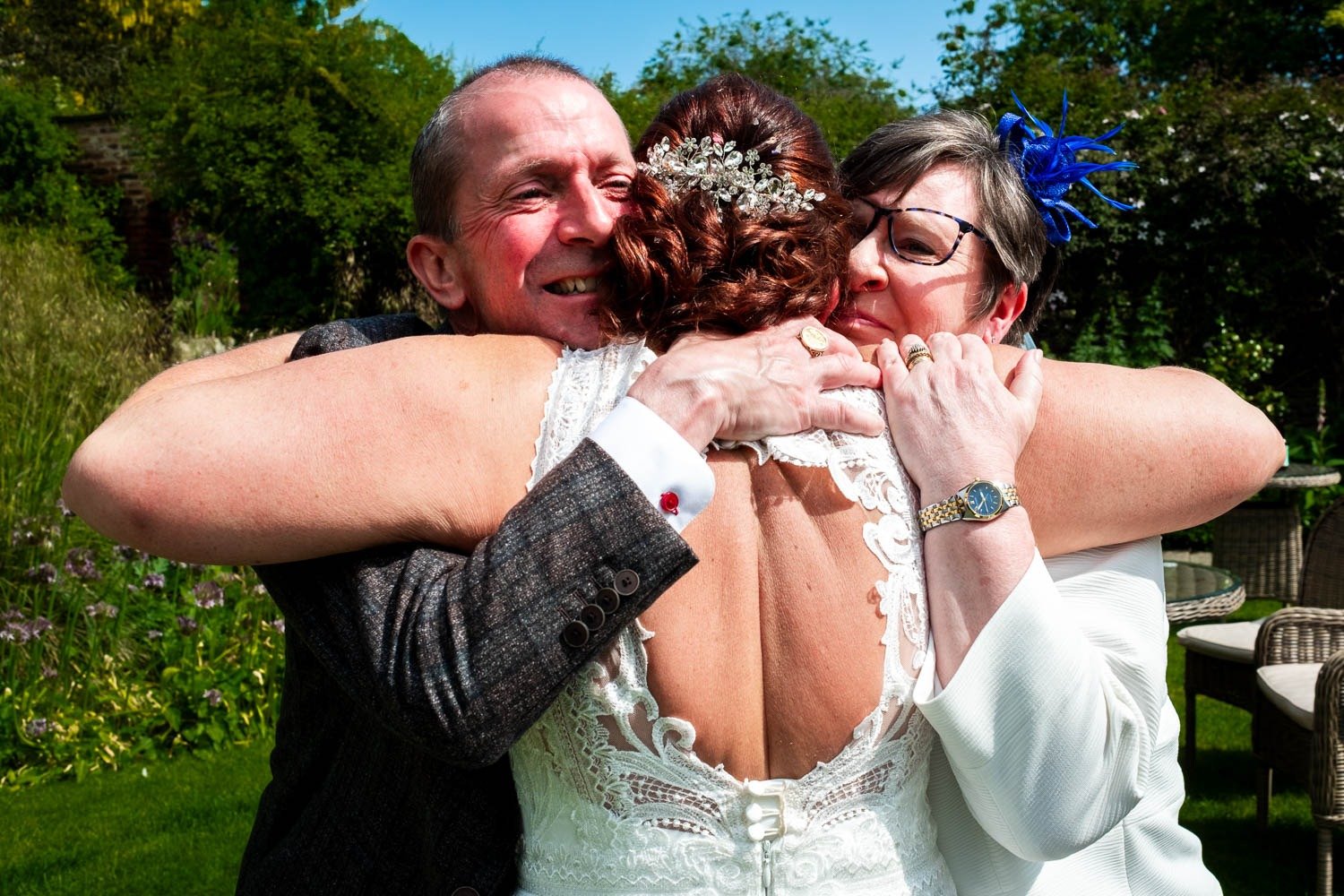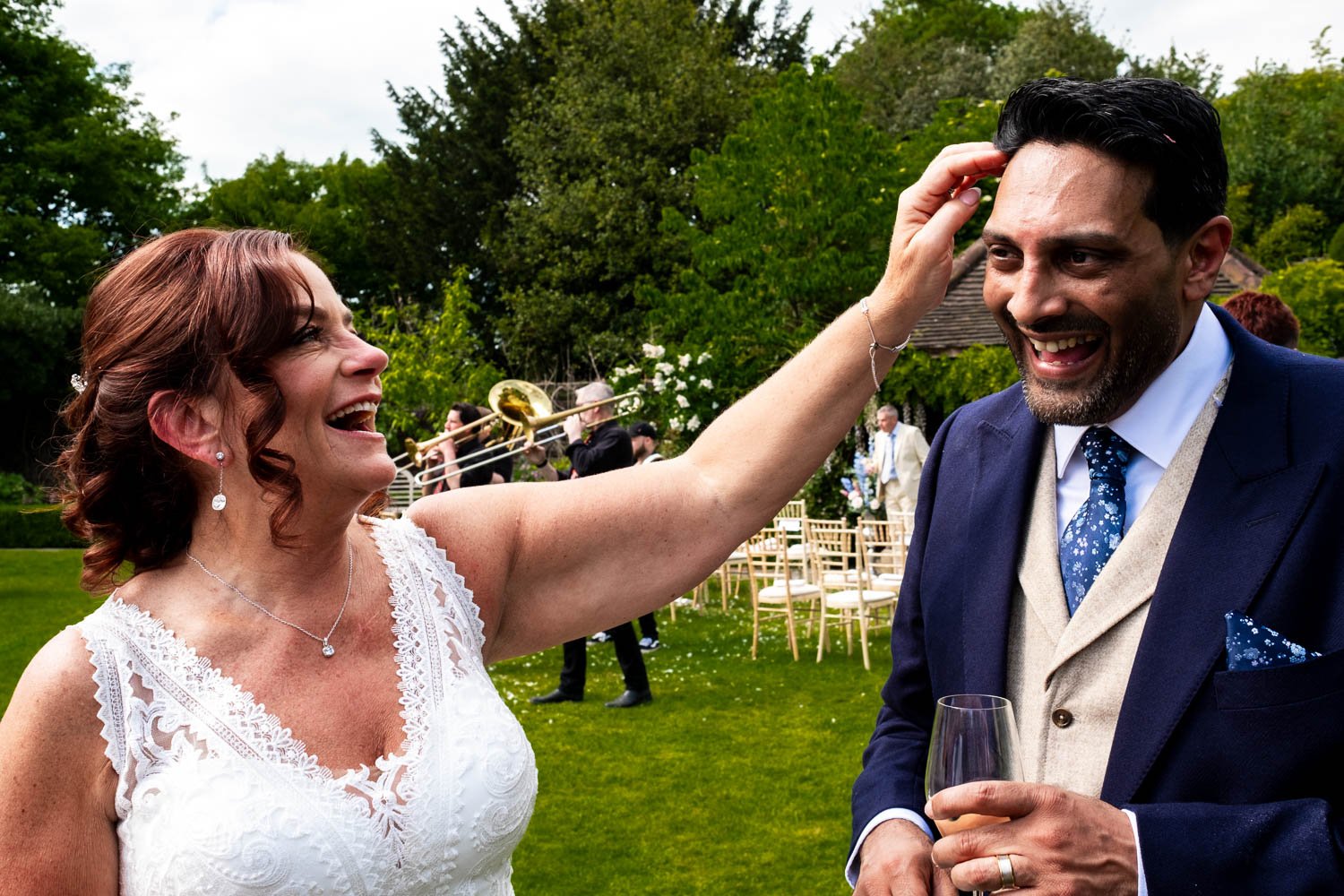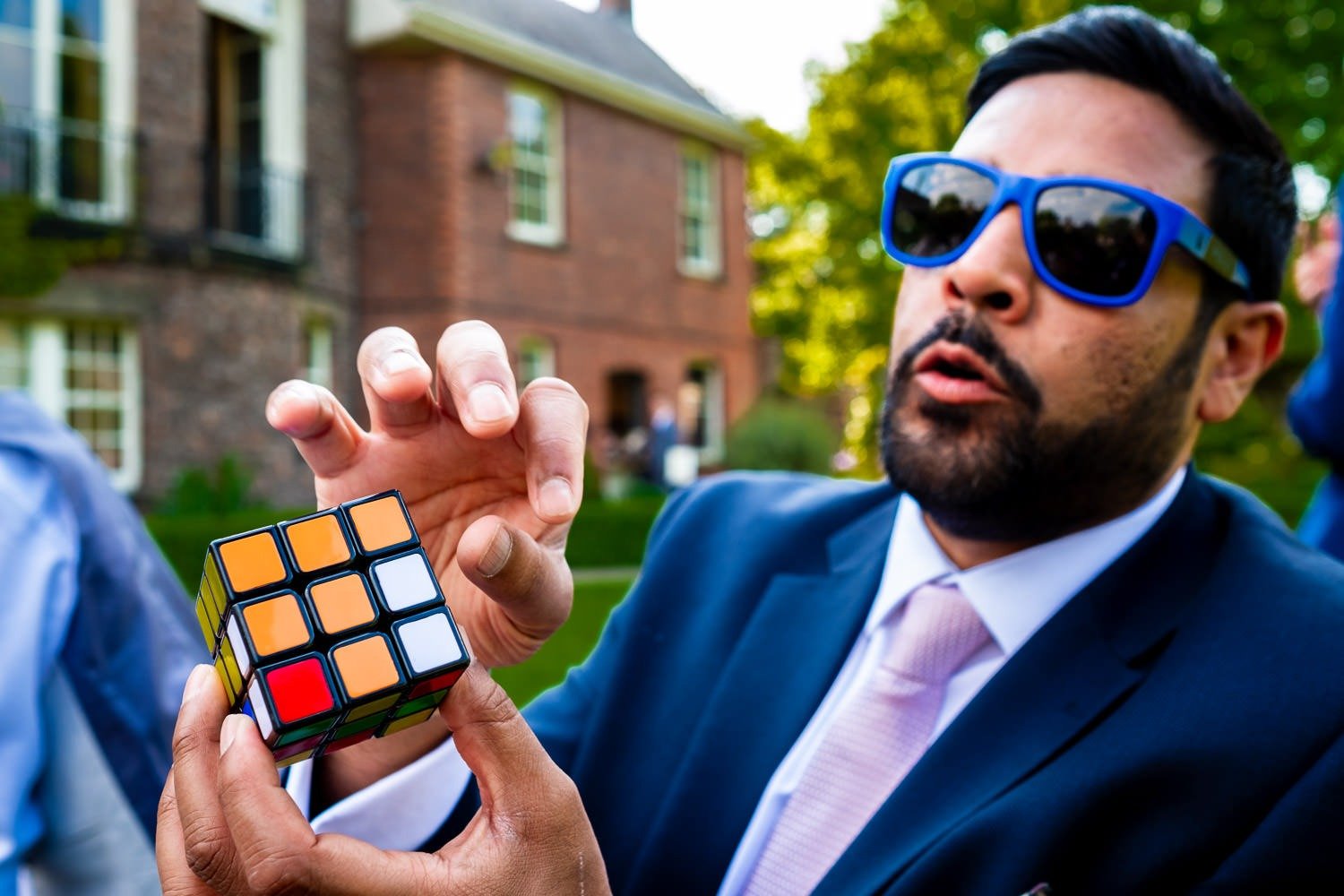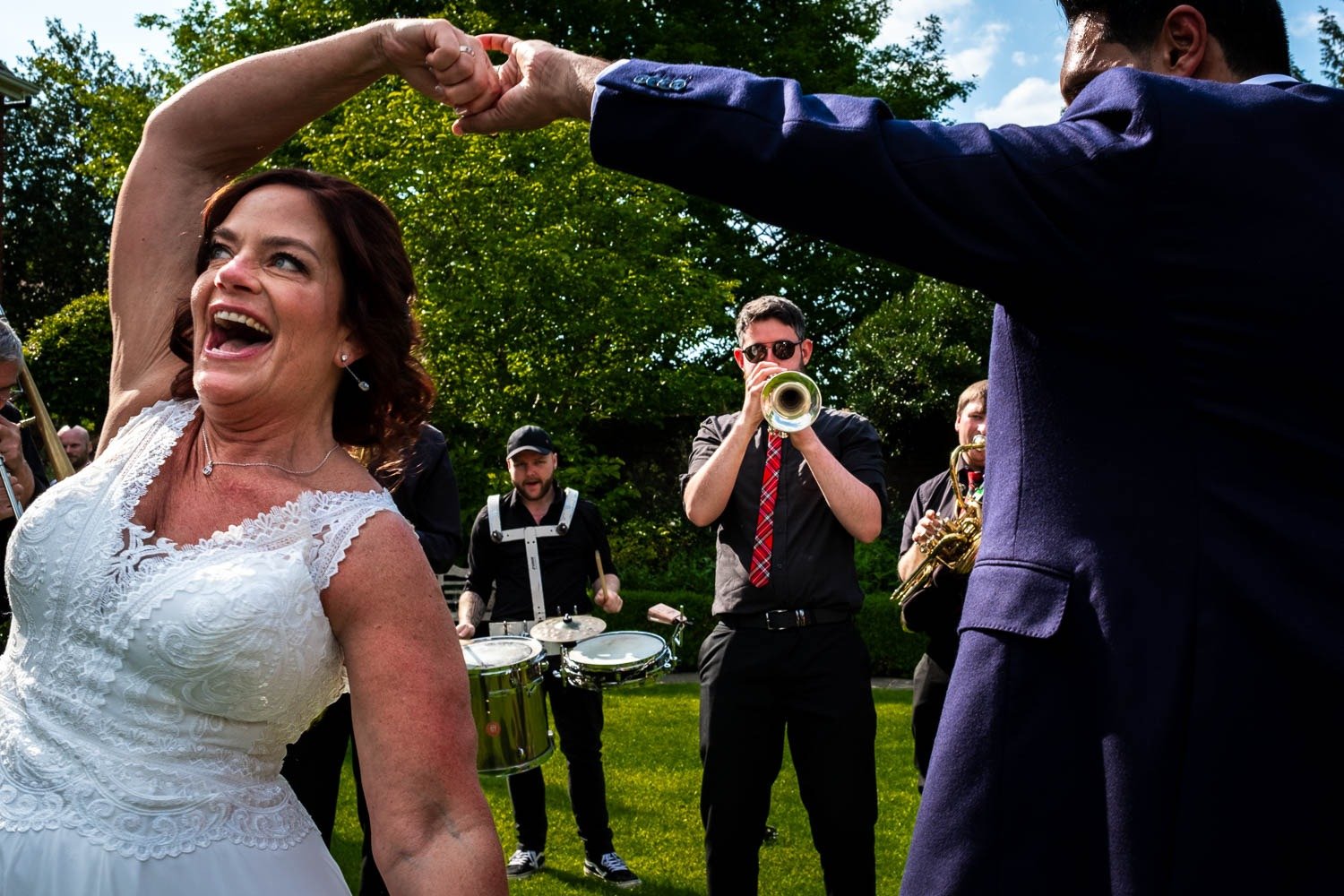 Grays Court documentary wedding portraits
I love to include elements of a wedding venue and the natural surroundings into my photography – check out my portfolio to find out more. Portraits don't have to be posed. And if tourists happen to wander down the street at the same time, all the better…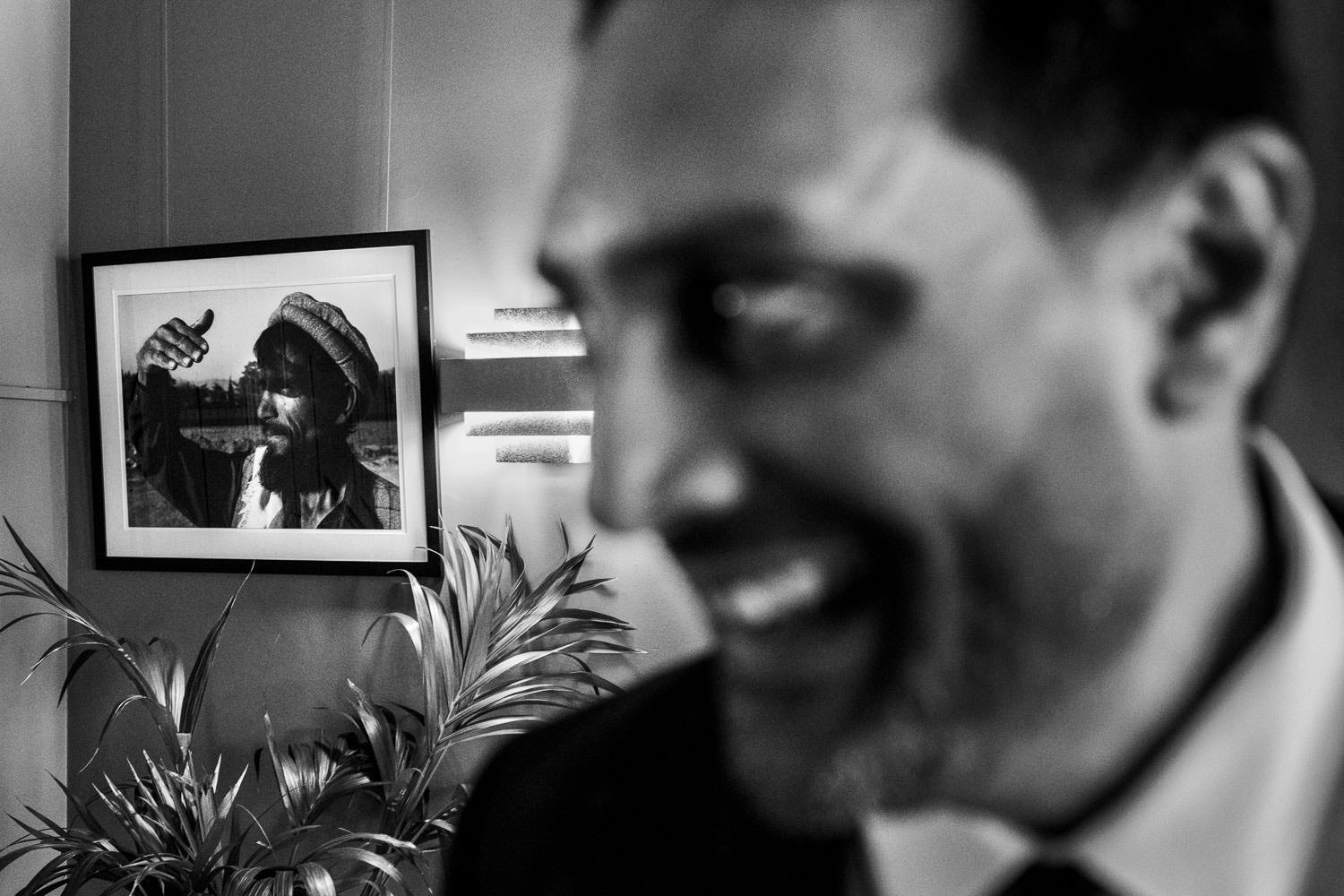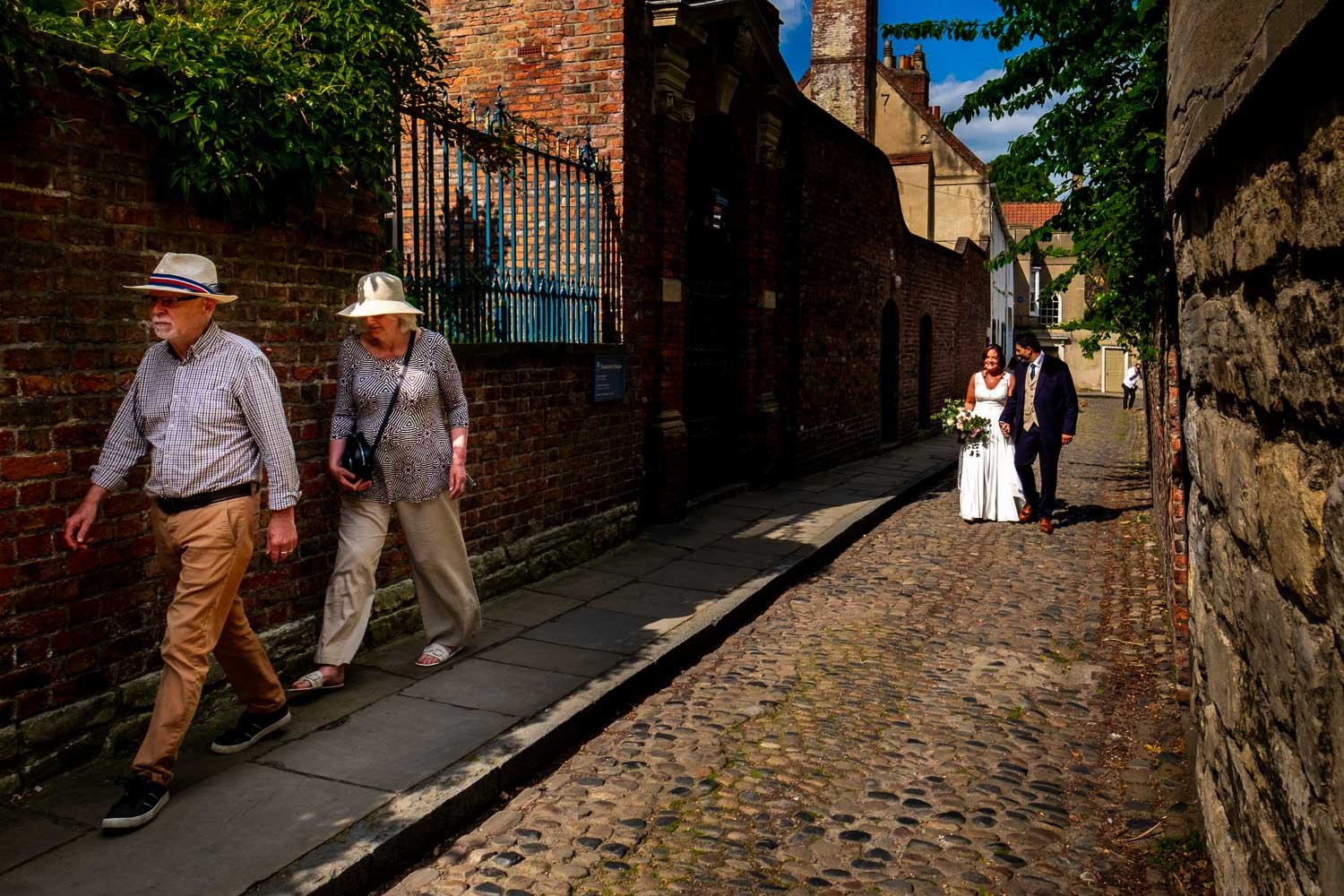 Grays Court wedding photography
Grays Court is without doubt the oldest wedding venue I've worked at – it's almost 1,000 years old.
Commissioned in 1070 by Thomas of Bayeux, the first Norman Archbishop in York following William the Conqueror's victory at the Battle of Hastings, it offers an astonishing glimpse into history.
Originally built to entertain important visitors, Grays Court is thought to be the oldest continuously occupied building in Britain.
King James I once visited, even knighting "eight noblemen" in the Long Gallery, and William Wilberforce is among the other distinguished guests to have stayed.
It hasn't all been roses and champagne, though. In 1674 George Aislabie, the owner of Gray's Court, and Jonathan Jennings, his wife's sister's fiancé ended up having a duel after a mix-up about – wait for it – some gates being locked. It started on the first stroke of the York Minster bell and ended when Jennings stabbed Aislabie. He was carried to Grays Court, where he later died.
The Grade I listed building is now owned by St John's College and, as far as I know, there haven't been any duels lately.
Grays Court is a genuinely special wedding venue, with 12 luxury rooms, 3 AA Rosettes and a place in the Michelin Guide. I can't wait to go back…
Looking for a wedding photojournalist?
Thanks for checking out this blog. If you're looking for a Grays Court wedding photographer – or a York or Manchester documentary wedding photographer – please get in touch.